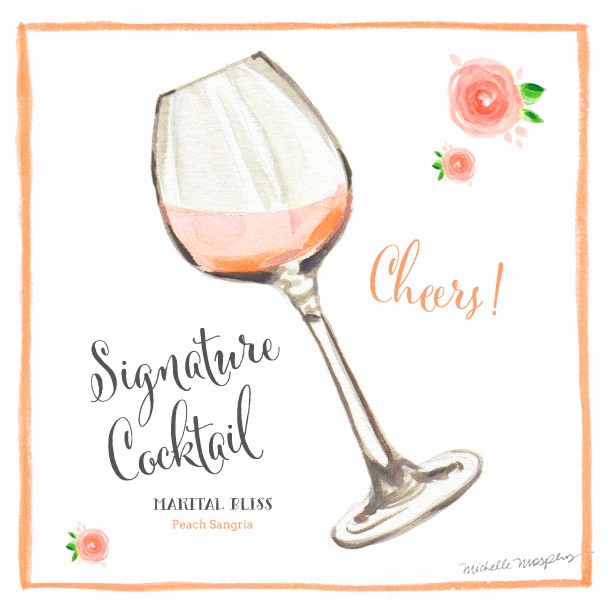 Cheers! Clink! … At your reception, Signature Cocktails are another fun way to share your personality with your guests.
Recently, I created a custom-illustrated Signature Drink sign for Erin and Anthony's wedding. I just loved the idea. …
Then while browsing Anthropologie's blog I spotted IT'S 5-O'CLOCK SOMEWHERE posts. And then found FRIDAY HAPPY HOUR at Oh So Beautiful Paper. There are so many great ideas to be had out there.
Sparkling White Peach Sangria
Ingredients:
1 (750 ml) bottle Riesling, or other white wine of your choice
4 peaches, cut into wedges (about 2 cups)
2 tablespoons sugar (optional)
1/2 cup peach vodka
1 (750 ml) bottle chilled peach flavored sparkling wine
Directions:
In a large pitcher combine white wine, peaches, sugar (if desired) and peach vodka. Chill for 3 hours or until cold.
When ready to serve, pour in peach flavored sparkling wine and stir gently.
CHEERS!

Disclaimer: Mix your ingredients and give the recipe a try before your event to ensure it is to your liking. Feel free to change to match your taste, of course. Drink Responsibly.