Friday I'm in LOVEEE! NOW TRENDING! Hand-lettered inspired calligraphy fonts.
I adore all things calligraphy. In my spare time when I am not drawing or painting you will find me practicing my hand at calligraphy with a pointed pen and paintbrush. Hand-lettered scripts are flirty and fun! Colorful calligraphic swashes add handcrafted elegance to your wedding invitations and stationery.
I have MANY brand new calligraphy style fonts I love, so I narrowed down to the ones I didn't share yet. (i think!) I hope you enjoy them too.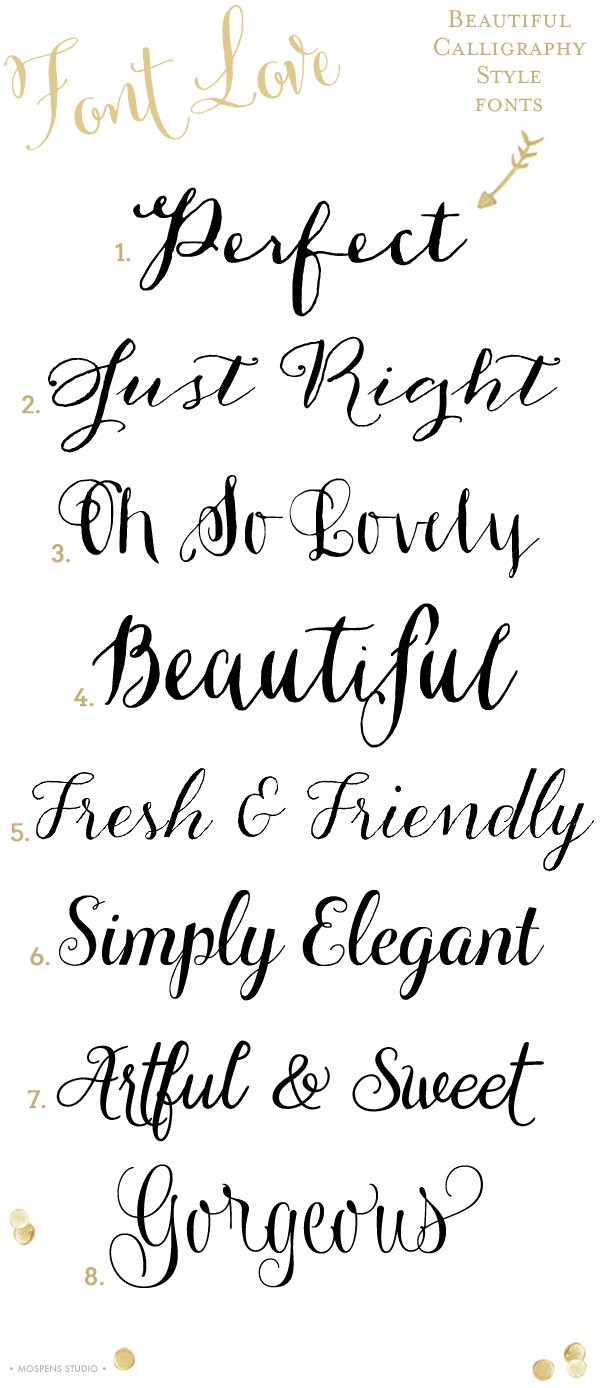 1. Dasha – A perfect calligraphy style script font. Look at that letter "P!"
2. Anna Clara – Let's face it. This hand-lettered font is just right!
3. Ahra – Oh so lovely upright calligraphy swashes!
4. Ondise – Beautiful and thick calligraphy style font. Ahhhhh!
5. Aleka – Fresh and friendly handlettering perfection!
6. Ciao Bella – Simply elegant with flat and perfectly curved pen strokes.
7. Gardeny – Swirly artful and sweet calligraphy style font.
8. Wishes Script Pro – Gorgeous modern calligraphy font. xo
Happy Friday to you and have a lovely and the most amazing weekend!
CHEERS!

This post contains affiliate links. If you purchase through the links, you help Mospens Studio out! xo