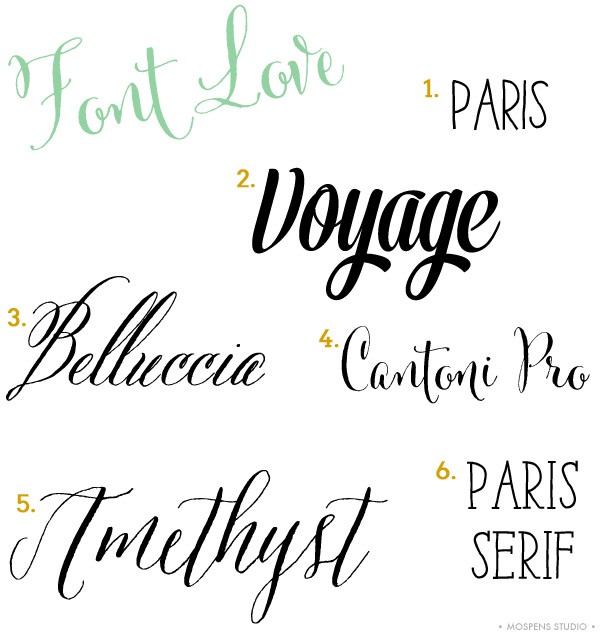 Introducing … Favorite Fonts Friday!
I have a bit of a confession to make. I LOVE fonts. What designer or creative does not love fonts? Right? I seriously go weak in the knees for a gorgeously designed font. I dream of designing fonts some day (soon)! ALL of the hand-drawn and calligraphy style fonts available today are ahhhMAZING.
So here it is … my first series of Font Love. These fonts made the list today!
1. Paris – A lovely and simple hand-drawn font. All caps.
2. Voyage  – This font is just perfect for any nautical design.
3. Bellucia  – Not brand new, however this is a keeper. LOVE the hand-calligraphy look. Just perfect!
4. Cantoni Pro  – NEW and super lovely. Hand-calligraphy font by one of my favorite font designers. xo
5. Amethyst  (update: name changed to Asterism) – HELLO! Seriously. I. Am. In. Love. 'nuff said.
6. Paris Serif  – Fabulous! I so love this font, sister of Paris, shown above.
Which one is your favorite? I would love to hear from you! Don't be shy.
Happy Weekend to you!

This post contains affiliate links. If you purchase through the links, you help Mospens Studio out! xo