Gorgeous Pink Floral Wedding Invitations! This handmade wedding invitation is also an art print for your guests to keep! A true keepsake. The vellum overlay is printed with your text. When your guests move the vellum they are gifted with an art print to keep forever.
Floral Wedding Invitation Suite with original hand painted pink roses flower art, hand torn edging, and hand tied ribbon!
Luxe + Handmade. This invitation design first starts with an original hand painted acrylic rose painting on canvas. We carefully scan in the fine art. Each invite is then printed stroke for stroke. Then EACH invitation is ACTUALLY hand painted to give texture and that handmade FINE ART finish.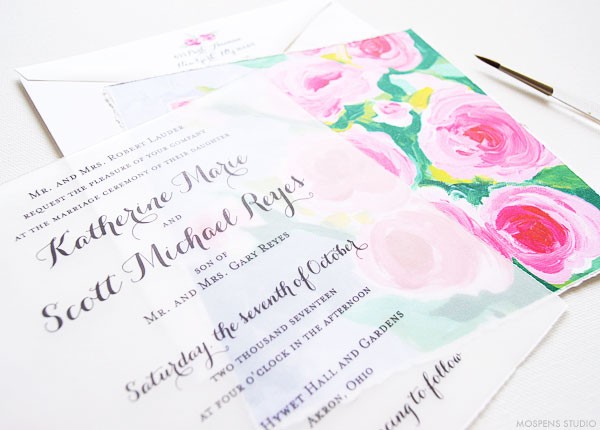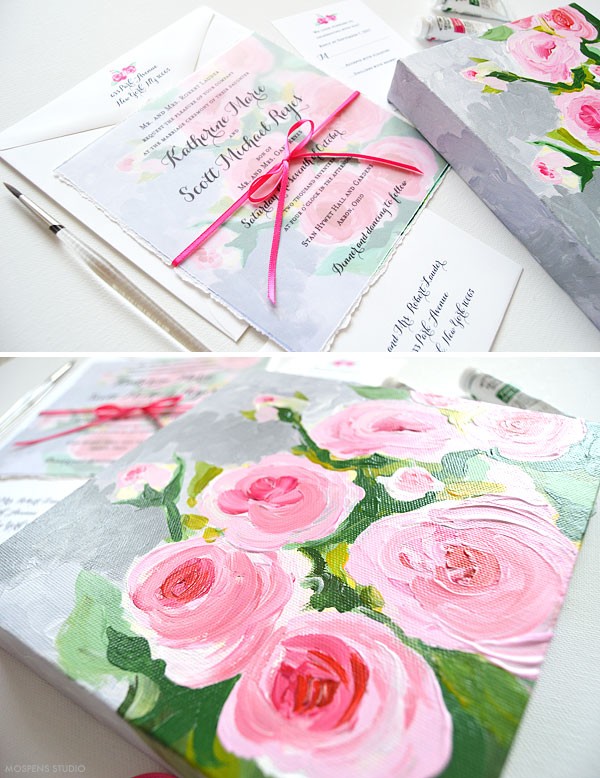 The roses are available in blush pink, peach orange, and lavender purple.
Font styles, ink color, flower color, and text can be customized by either James or myself after you order 25 invitations or more. A proof preview is provided after you order. We only print your invitations after receiving your final approval to print.
Shown here as a wedding invitation, this invitation design is also available as a birthday invitation, bat mitzvah invite, rehearsal dinner invitation, and any fabulous party invite.
Available in online soon!
If you have any questions at all, please contact me directly! michelle@mospensstudio.com