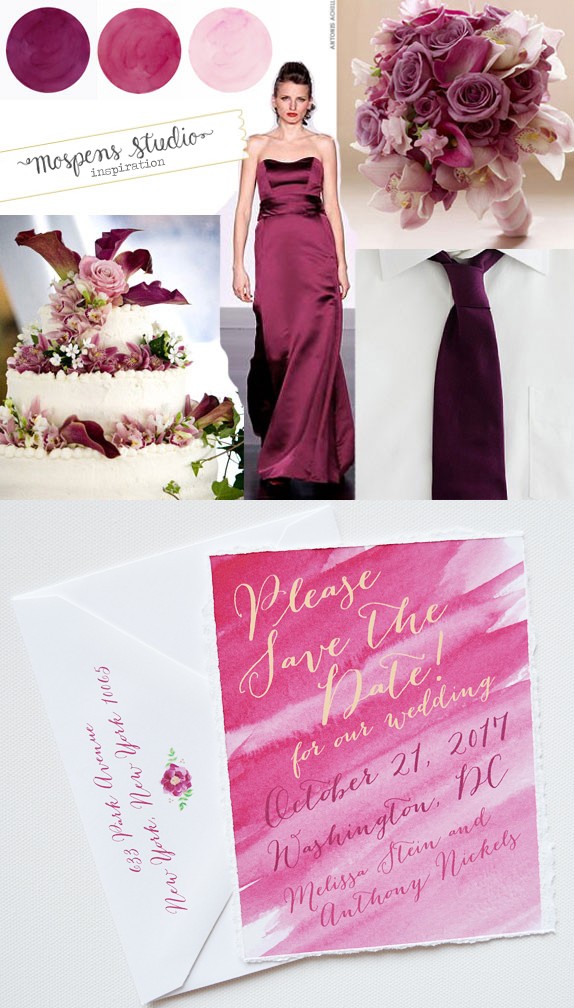 SANGRIA or wine is super HOT for late summer, fall and winter weddings! Paired with light dusty pink and mauve with a splash of green is simply refreshing and fabulous!
UPDATE! Sangria is still HOT!! This new MODERN sangria watercolor save the date is perfect for your cranberry color scheme.
Custom save the date by Mospens Studio … Cake by photo by Jeremy Hess Photographers found on TheKnot.com … Dress by Priscilla of Boston in Wine … Tie by JCrew in Sangria … Bouquet by SwankProductions.com via TheKnot.com
Black and Dark Graphite look fabulous with Sangria Wine. If you are having an early fall late summer wedding beige suits would look beautiful.
The closest Pantone(R) color matches {by viewing on a computer screen} are:
Sangria / Wine 229
Mauve 675
Dusty Pink 684