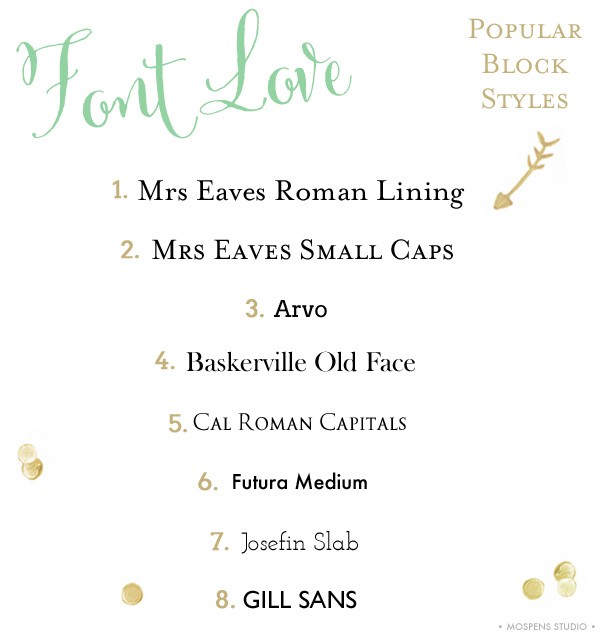 Woweee! This week FLEW by! I hope yours was a great one.
For FONT LOVE Series #5 I wanted to share Mospens Studio most popular block style fonts for wedding invitations.
Many of these fonts are used as ALL CAPS or both upper and lowercase. You will find serif and sans-serif fonts.
1. Mrs Eaves Lining – Love the vintage look of this serif font.
2. Mrs Eaves All Caps – The MOST popular block font everrr for wedding invitations.
3. Arvo – Freebie! Super clean and lovely serif font.
4. Baskerville Old Face – Vintage and easy to read.
5. Cal Roman Capitals – Classy! All caps only.
6. Futura Medium – Upper and lower case or all caps, this font is a great sans-serif choice.
7. Josefin Slab – Freebie! Charming serif font.
8. Gill Sans – Another great font used in upper and lower case or all caps, no serifs here. Many options!
This weekend I am continuing to work on my 2014 wedding invitations collection! Soooo excited.
Have a lovely weekend!
Cheers!

This post contains affiliate links. If you purchase through the links, you help Mospens Studio out! xo