It's here! The PANTONE Spring 2015 Color Report. Fresh, retro and fun!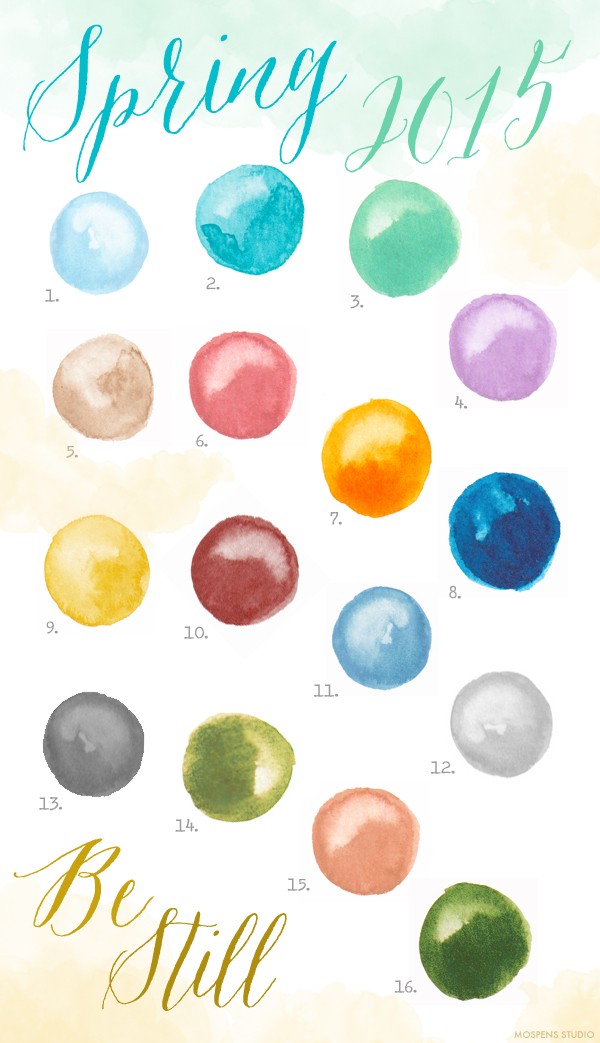 A lovely cool, calm collection of softer hues were chosen by the experts at PANTONE. Pale pastels and beautiful neutrals giving a nod to retro colors. Tropical colors for warmer spring weather are perfect. Escape the hustle and bustle from the busyness of everyday life with this collection of Spring colors. Subtle warm tones inject calmness.
Disconnect. Breathe. Be Still.
1. PANTONE 14-4313 Aquamarine
2. PANTONE 16-4725 Scuba Blue
3. PANTONE 14-5714 Lucite Green
4. PANTONE 16-3310 Lavender Herb
5. PANTONE 14-1213 Toasted Almond
6. PANTONE 16-1720 Strawberry Ice
7. PANTONE 15-1247 Tangerine
8. PANTONE 19-4052 Classic Blue
9. PANTONE 13-0720 Custard
10. PANTONE 18-1438 Marsala
11. PANTONE 16-4120 Dusk Blue
12. PANTONE 14-4102 Glacier Gray
13. PANTONE 17-4014 Titanium
14. PANTONE 18-0538 Woodbine
15. PANTONE 16-1328 Sandstone
16. PANTONE 18-0135 Treetop
At Mospens Studio, we are happy to incorporate the freshest hues into your custom invitations and stationery! After you order, just tell us the colors you are using and we will pair them together perfectly just for you.