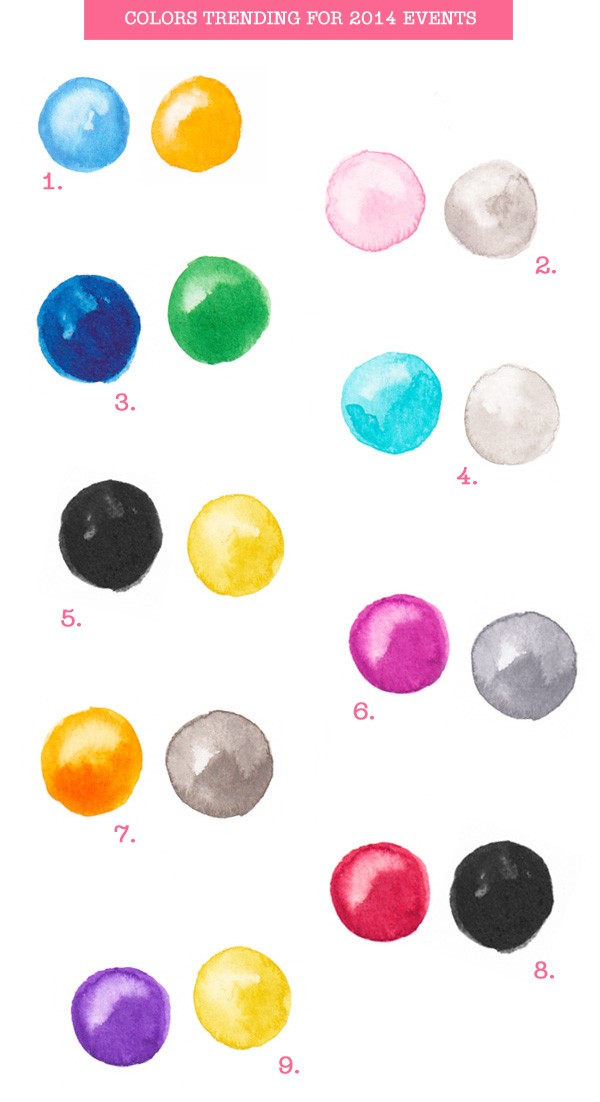 There are so many wonderful and modern color combos for your wedding, soiree, and/or events. I thought I would help you narrow down some ideas today!
Colors currently trending in the studio:
1. Cornflower + Melon // Fresh and fun for a spring or summer wedding/event!
2. Pink + Gray // Soft, elegant, and feminine. Perfect for a vintage elegance theme.
3. Navy + Green // Nautical, preppy, and did I mention nautical? The nautical trend has me smiling from ear to ear! I am in love with all things preppy and nautical.
4. Tiffany-Inspired Blue + Light Gray or Silver // Elegant, classic, and Tiffany-inspired.
5. Black + Gold // Glam, art deco, and Gatsby-inspired events are HUGE.
6. Fandango Pink + Cool Gray // A modern combo like fuchsia pink and black, demand attention! Wild and fun! Think zebra stripes and sparkle.
7. Burnt Orange + Warm Gray // A lovely color combo for crisp fall weddings.
8. Black + Red // Classic, simple, and elegant colors.
9. Purple + Gold // Regal and rich. These color combos are lovely for an Autumn affair!
When looking for the perfect color combo for your event, choose a color combination you LOVE! The paring of hues should reflect your classic personal and event personality. Good luck and have fun!
Cheers!