Introducing … BRAND NEW 2013 Greeting Cards!
I hand-illustrated the lettering and vibrant flowers with watercolor paint. I then printed each original greeting card design on smooth thick white cardstock. Each greeting card is also hand-painted with sparkle. Colorful envelopes to match perfectly are included.
We are giving away a collection of NEW watercolor greeting cards to ONE lucky winner …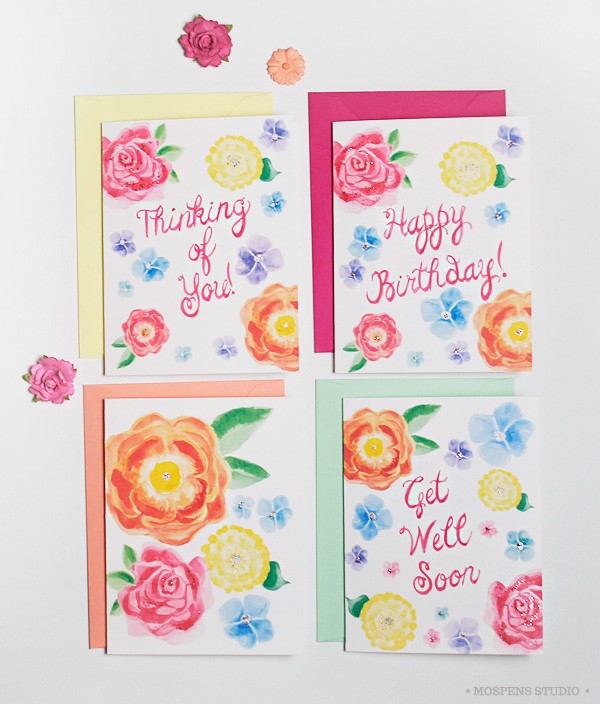 However, if you just can not wait you can also order them using the order button below!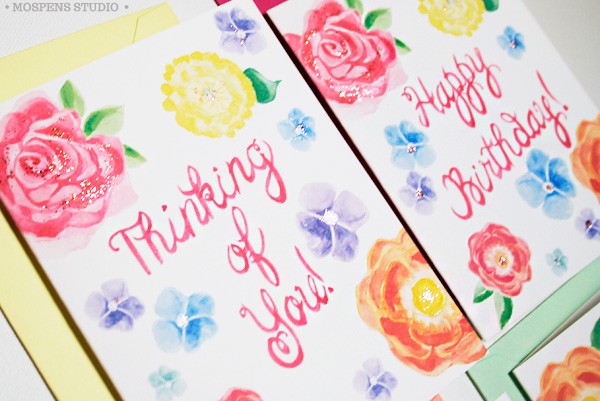 I personally can not wait to mail them to my friends and family! They are super cheerful and sweet in person. xo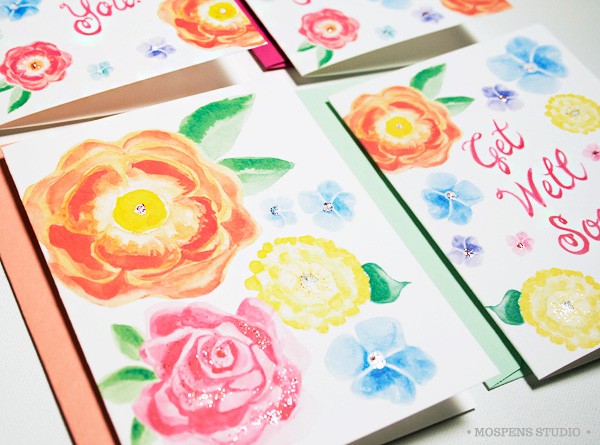 It is GREAT to have a set of 8 watercolor greeting cards on hand to ensure you mail out your tangible and thoughtful greeting to your loved one in a timely manner. And what a treat they will have when a one-of-a-kind glittery greeting delivers your kind thoughts.
Illustrated Greeting Card details:
• 4.25 x 5.5 inches
• 80# white cardstock
• Hand-painted sparkle on flowers
• Blank inside
• Colorful envelopes
• Pack of 8
• $36.00
• ADD TO CART
To enter this illustrated greeting card giveaway:
1. Leave us a comment telling us your favorite occasion to RECEIVE a greeting card. (Be sure to add your email address in the comment, this will not be published. It's just for us to contact you when you win!)
2. Pin a photo from this giveaway post on Pinterest. Then, just comment here you did so.
3. Blog, Facebook, and Tweet about this giveaway and leave another comment letting us know!
4. Follow Mospens Studio on Facebook and Twitter and let us know by commenting here.
Enter as many times as you wish!
This giveaway ends on April 26, 2013 at NOON 12:00PM ET. USA residents qualify only.
One random winner will be chosen to win one 8 pack of illustrated greeting cards with 4 designs (shown above).
Good luck to all!